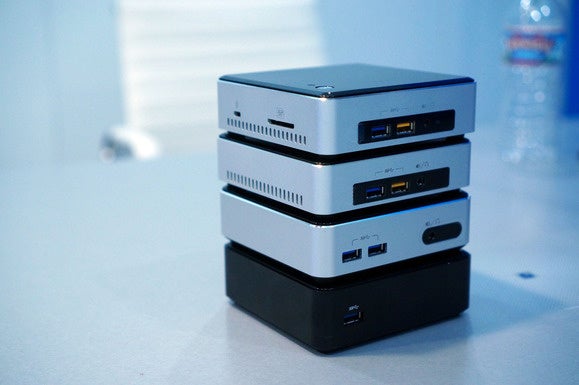 Intel announced a new series of tiny NUC computers using its Skylake CPUs, but the real eye-raising news from the chip company is a forthcoming "gaming-focused" version codenamed "Skull Canyon."
Rumors of a quad-core mini PC have been swirling for weeks, but in an unusual move for the typically tight-lipped company, officials confirmed the upcoming more powerful NUC.
Although we aren't able to show images of Intel's quad-core NUC, it will be larger due to the hotter quad-core Skylake chip, and also pack the company's top-end Iris Pro graphics.
If you're a gamer and just heard the needle scratch across the record, you know that even the upcoming Skylake Iris Pro may not be the best graphics you can get in a PC. For that you need discrete graphics card, and in a tiny mini PC, that won't happen.
The game-changer, though, is external graphics using Thunderbolt 3 across USB-C ports. Although the only specs we have on the Skull Canyon NUC is the core count, it doesn't take a genius to figure out Intel may very well try to use an external graphics solution similar to what Razer did with its Core.
Availability, pricing, and even how the final units will look and what ports they'll have aren't known yet, as Intel didn't dish details.
It did, at least, tell us the updated Skylake NUC barebones will pack 802.11ac, dual-core chips, and support DDR4 RAM. The other changes include SD card readers and a full-size HDMI 1.4 port instead of the mini HDMI currently used, as well as DisplayPort 1.2. The dual-core NUCs are expected next month.